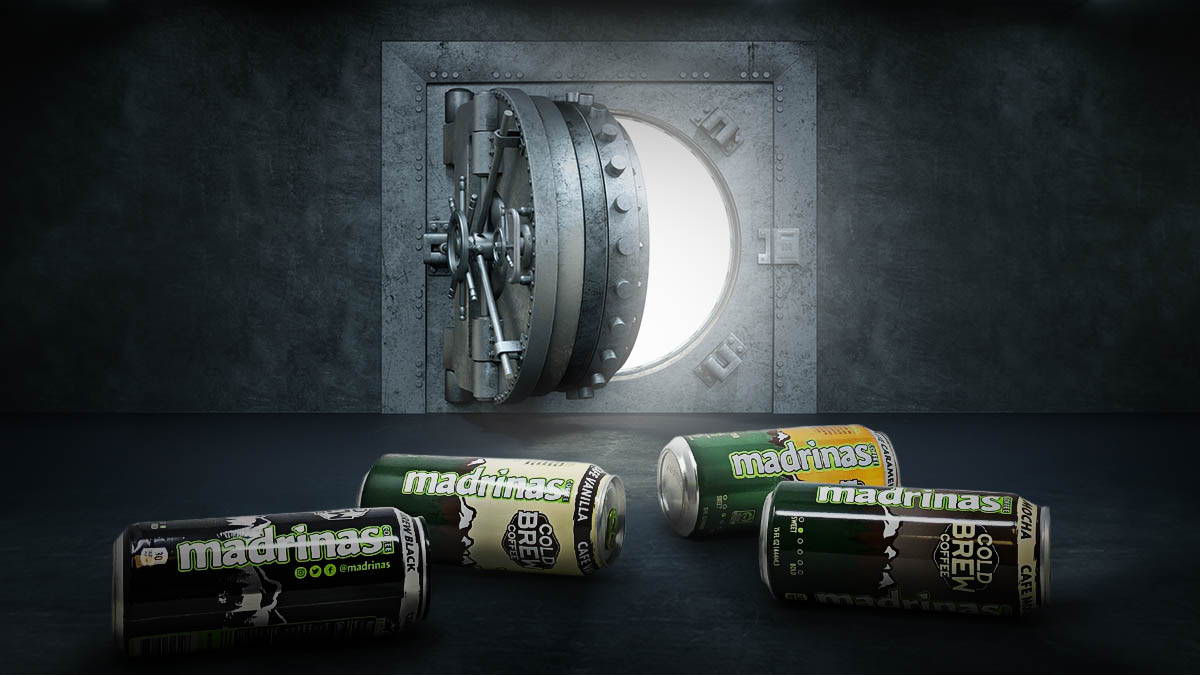 Cold Brew Cans are Heading to the Vault! Here's what you need to know!

Q: "When are your Cold Brew Cans gone for good?"
A: Our Cold Brew Cans will remain available while supplies last through our BOGO Can Sale. Once inventory is gone, all Cold Brew Cans will be locked into the vault.
 Q: "Why are you taking away your Cold Brew Cans? They are my favorite!"
A: We have made the move to roll Cold Brew Cans into the vault! This gives Madrinas the opportunity to make room for new products and focus on future product innovation! There is always the possibility that the vault could open in the future! You just never know!
 Q: I ordered your Cold Brew Black because it was a great vegan and dairy-free option. It was also low in sugar. Do you have any other vegan or dairy-free products available? Are you developing any new products with vegans in mind?
A: We still have vegan & dairy-free options for you! Our Green Coffee Fuelers are vegan, dairy-free, and low in sugar. We are also developing and releasing new vegan and new low sugar product very soon!
Q: Cold Brew Black had 160mg of caffeine, which was the boost I needed every day, what other products have that much caffeine?
 A: Diamond Hands Dark Roast has 200mg of caffeine and has a coffee forward taste! If you are wanting to experiment a little bit, our Green Coffee Fuelers have a refreshing fruity flavor and 190mg of caffeine! Our Vanilla and Mocha Cold Brew Powders also have over 180 mg of caffeine.
Q: Cold Brew Black was only 30 calories; will you offer any other low-calorie options?
 A: Yes! Our Green Coffee Fueler line is low calorie and we are releasing more new products soon! Stay tuned!

Q: I receive a subscription order of Cold Brew Cans each month. What will happen to my subscription of cans? Do I need to cancel it? When will the subscription stop?

A: Your Cold Brew Can subscription will be cancelled on Wednesday, August 18, 2021. You do not need to take any further action. If you would like to subscribe to any of our powdered products, subscriptions will continue to be available as an option for those products.
Q: I see that there is an option to buy Café Mocha and Café Vanilla in a powdered form, but I loved ordering the Café Caramel. Will you be carrying a Café Caramel Powder?
A: We are currently developing new flavors of Cold Brew Powder. You never know when Cafe Caramel, or another variation could show up in a powdered form!
Q: While I'm sad to see the cans go, I'd like to give some of your similar powdered products a try. What do they taste like and how are they different from the cans?
A: We are proud that we have developed our line of Cold Brew Powders to taste just as delicious as our Cold Brew Cans. The biggest difference in our Powders is that they use nonfat dry milk instead of nonfat regular milk. Here are some of the benefits of our powdered products:
Powdered products offer more servings.

Powdered products are more easily accessible on the go. You can even use our shakers to take them on the go in a re-sealable container.

Powdered products are much lighter and offer cost effective shipping. At about 1 lb per tub, that's 6x lighter than a 6-pack.

Powders are easy to make! Just mix one scoop with 13oz of ice-cold water, shake, and you're ready to go!
All Cans are Buy One, Get One Free using code "BOGOCAN" while supplies last!
AN OPEN LETTER TO CANS
by Alex Davis

Dear Cold Brew Cans,

You've been there from the beginning. One of our first loves. Where some of our favorite Madrinas memories are rooted. From cracking you open on the ride to work, to sharing you with a friend as we talked for hours on end. Your silky flavors of mocha, caramel, and vanilla transformed our taste buds, and Cold Brew Black gave us a reason to smile every single morning.

As you make your way to the vault, we honor you! As you take a step-back, our most exciting products yet get to take the stage! As bittersweet as it may be now, we know that you'll have a great time in the vault, and hey, that door might not stay closed forever.

So here's to you! Cheers to fueling us through the early morning, late night streams, and everything in-between. This is not goodbye, simply a see you later!
One Love,
The Madrinas Fam
Continue reading